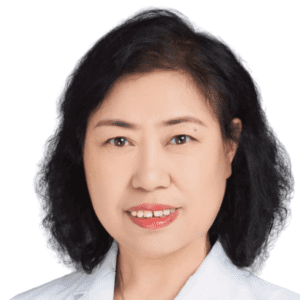 Professor, Department of Pediatrics
Peking University First Hospital
No.1 Xi'an Men Street, West District
Beijing 100034
China
T: 0086-10-83573238
E: wang66jm@163.com
Dr. Wang is a Professor of Pediatrics at Peking University First Hospital. In 2005, Dr. Dr. Wang along with Dr. Binbin Cao and her team were the first to begin studying Megalencephalic Leukoencephalopathy with Subcortical Cysts (MLC) in China.  Their focus included researching clinical and genetic features and the pathogenic mechanism of the disease. They translated the disease name into Chinese and reported the first case with MLC1 and GlialCAM gene mutations in China in 2006 and 2012, respectively. Since 2005, they have collected 39 MLC patients from 33 unrelated families, distributed in 18 different provinces or municipalities in China. During the past 17 years they have extensively characterized their cohort of MLC patients, conducted long-term studies of disease progression and genetic studies to determine the effects of splice-site and intronic mutations reported in this group. Furthermore, they constructed cell and mouse models to study the pathogenic mechanisms of disease and the effect of MLC1 and GlialCAM mutations on mRNA/protein expression and location. Binbin Cao's group has also prioritized offering genetic counseling to families, education programs on nursing guidance to help MLC parents, treatment of common symptoms such as epilepsy and attention deficit hyperactivity disorder, and have made prenatal molecular diagnoses for 5 MLC families. In the future, they will continue to focus on the clinical management of the patients and conduct further research on the disease-causing gene and the pathogenesis of the disease.